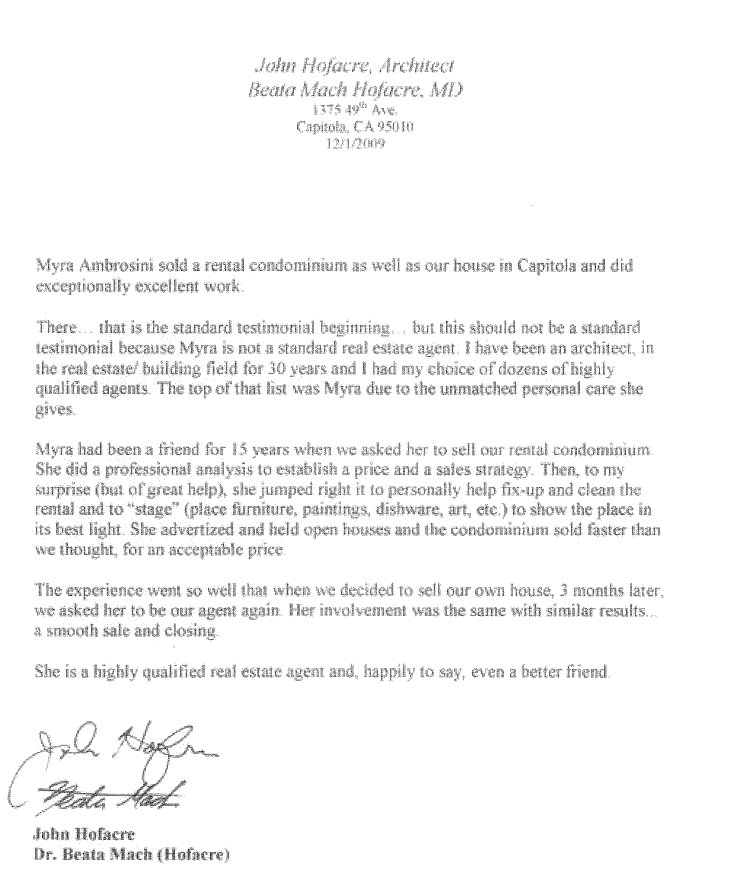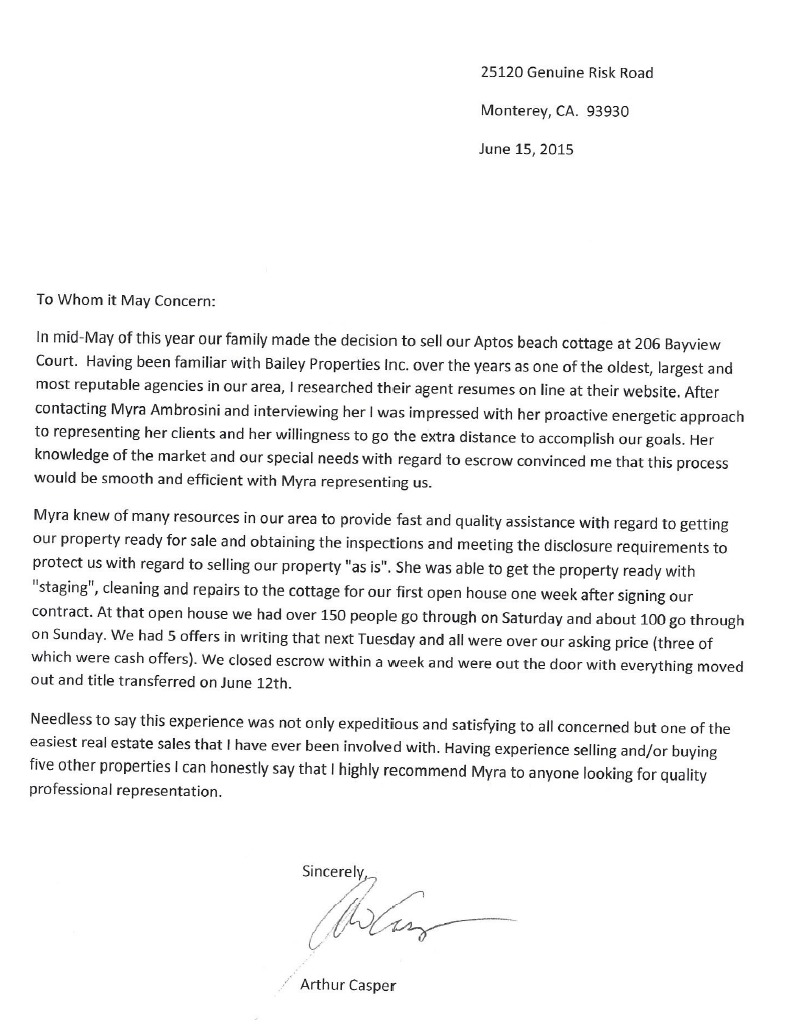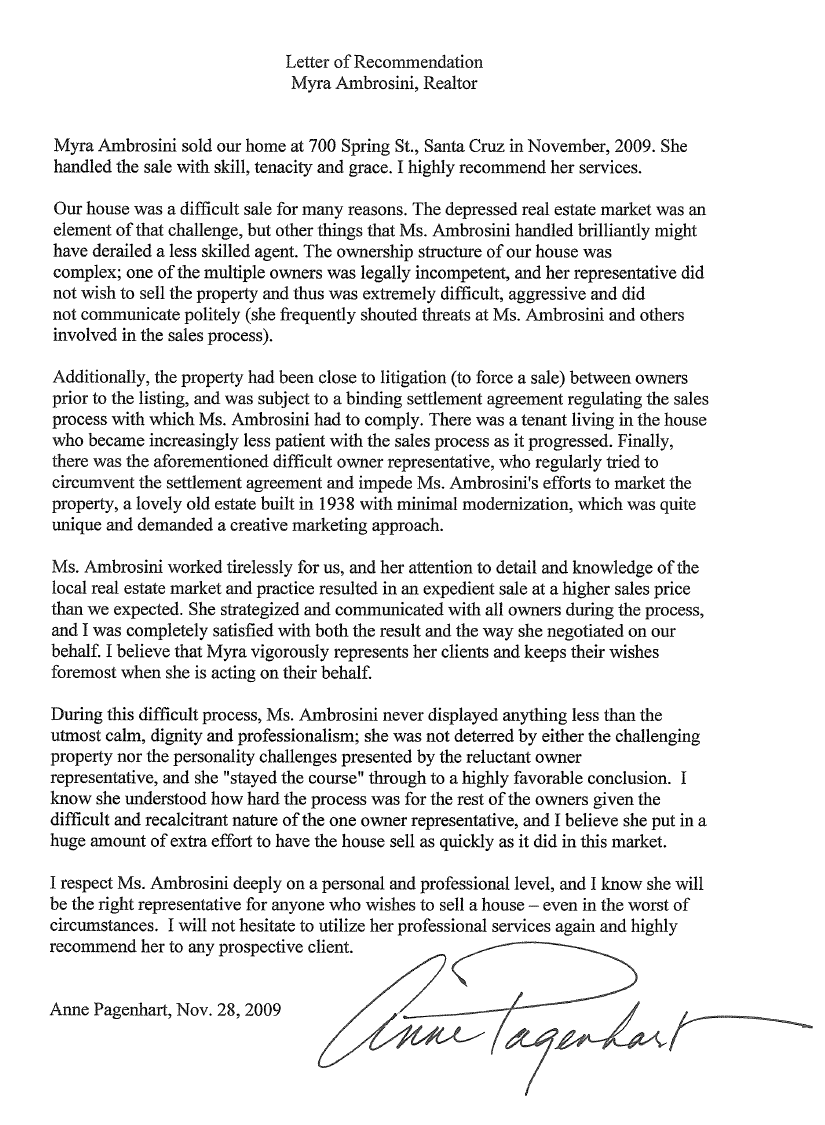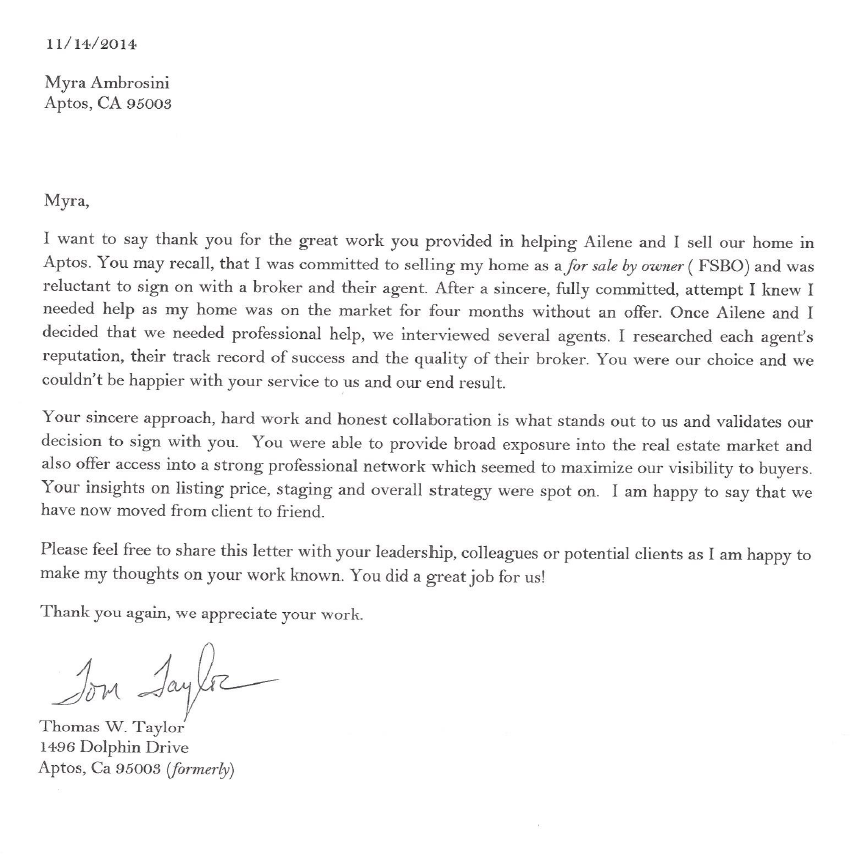 ---
LETTER OF RECOMMENDATION FOR MYRA AMBROSINI
To Whom It May Concern:
Please accept my recommendation of Myra Ambrosini without any hesitation whatsoever.
My wife and I first met Myra at an open house where we were able to make an instant connection. Her approachability, warmth, genuine questioning, presence and professionalism was notable. As a result of that impression, we approached Myra to sell two very difficult lots that we have had on and off the market for 30 years. Myra did her research and made a proposal that was at first not acceptable but her research, comparable listings/sales and knowledge of the market won us over.
With that said, within one week of listing with Myra, we had an offer on the property and not just one but two! This got very complicated due to our travels in Europe so all correspondence had to be done with a 9 hour time differential. Most impressive, Myra demonstrated her dedication, persistence, communication skills, work ethic, tenacity and experience to negotiate both offers to our advantage which resulted in a final sale above our listed price.
Myra Ambrosini exemplifies all of the professional characteristics necessary to represent a client with integrity balancing all interests involved. I heartily recommend Myra Ambrosini to you and know she will work tirelessly plus confidently to a mutually beneficial result.
Sincerely yours,
Peter A. Niboli
Peter A. Niboli

Director, California Retail
August 7, 2015
---
Myra was absolutely terrific through the whole process of selling our home. We performed a 1031 Tax Exchange and also had renters who needed consideration during the process, so it was not a simple case. Myra was both patient and diligent with all aspects of the showing, selling and closing of the home. She was very organized and helped us navigate the complicated situation with relative ease. She is well-connected with the local markets and she actually found the proper buyer for our home from here contacts. It was a real pleasure to work with Myra: she is professional and has a wonderful personality. I highly recommend Myra as a realtor for anyone looking to buy or sell a home in the Santa Cruz County.

Paul Holocher
---
To whom it may concern:
I would like to recommend Myra Ambrosini as your realtor. We used her as the agent to sell our house and could not be happier.
From day one she was extremely helpful in guiding my wife and I through the process. We had never sold any type of real estate before so it was important for us work with someone with extensive experience and someone that we felt we could trust to make sure everything was taken care of properly. Myra was very patient in leading us from start to finish.
We were very impressed with her knowledge of what seemed to us an extremely complicated and detailed series of steps that were required along the way. We were also amazed with how assertive and energetic she is. She devoted so much time to us that we almost felt guilty.
From the moment we first met to discuss selling our house we knew we were in great hands. Myra went to work immediately preparing our listing, getting wonderful pictures taken, writing a very thorough description of the property, creating a web site and brochure to attract potential buyers etc. and held open houses for other realtors and the general public all within just a few days.
All of her efforts paid off faster then we ever imagined possible and Myra did a fantastic job of negotiating the best possible selling price for us. We were fortunate enough to receive multiple offers and she helped us understand the pros and cons of each one.
What impressed us more than anything is Myra's integrity and her genuine desire to help us achieve our goals in the best way possible. We never felt rushed or persuaded to make decisions on anything other than what we wanted. She was always willing to give us advice but also explained our options and the results we could expect from each but never pressured us on which option to choose.
If we are ever in the need of a realtor in the future we would call Myra in a heartbeat. There would be no reason in the world for us to work with anyone else.
We would be more than happy to answer your questions about Myra and the wonderful experience we had working with her. Just ask her for our contact information.
Sincerely,
Melinda and Dave Nowak
1040 Buena Vista Dr.
Watsonville Ca
---
Helped me sell a home
Myra is a joy to work with! She's professional, knowledgable, and friendly. She's a great problem solver and gave us good advice throughout the process. Myra went above and beyond to help us sell our property. I highly recommend Myra Ambrosini!

Jennifer Andrew
Tue, Apr 29, 2014
---
Helped me sell a home
I was nervous about selling my first home but Myra made the experience extremely comfortable and completely exceeded my expectations. Her high quality of work put my home in escrow sooner than I could have ever imagined. She made sure educate me before the house was on the market, while the house was on the market, and during the escrow process. I would highly recommend Myra as your real estate agent because she will definitely guide you through the entire process.

Susanna
Sat, Apr 26, 2014
---
Helped me buy a home
I wanted to buy a home in a beach town and wasn't familiar with the area other than doing day trips. I met with Myra and told her what I was looking for, from day one she worked hard to find the right house for me. She was patient as I looked for the right fit, ultimately she was the one who found the right house for me. Her knowledge of the area and surrounding areas was invaluable and extremely helpful in deciding to make the move to the area.

Reb
Mon, Apr 21, 2014
---
Currently working together
Myra is definitely going to be the only agent that i will personally work with. That is how much i like and trust her.
Sat, Apr 19, 2014
---
Currently working together
Our family has worked with Myra for almost a decade. What stands out is her diligence, commitment and knowledge of the market. Combine that with her kindness, gentle strength and she is an incredible real estate agent.

Suzi Josselyn
Fri, Apr 18, 2014
---
Helped me buy a home
Mya Ambrosini did a wonderful job of representing me in the purchase of our Seascape condominium. I have been involved with real estate for 35+ years as a builder, developer, and rental property owner; and few in the industry have the intelligence, dedication, and experience that Myra does. Myra also helped my son and daughter-in-law purchase a home in Aptos. I highly recommend her and know that she will do an excellent job listing your property or helping you find the perfect home.
Mon, Apr 14, 2014
---